Pond Construction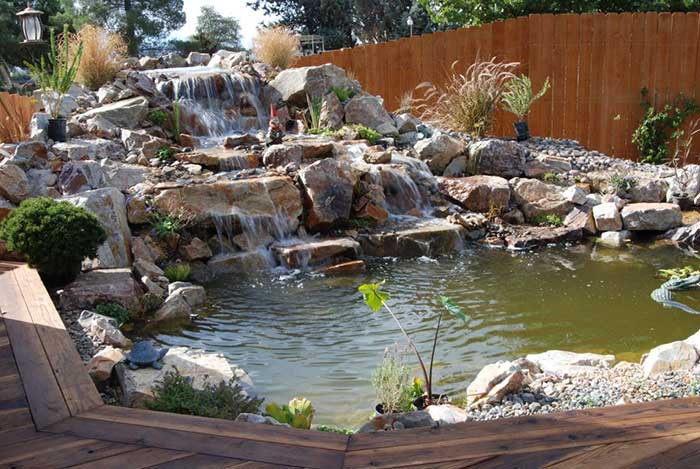 Backyard ponds add beauty to any backyard, transforming an ordinary backyard into a personal oasis. Ponderiffic Adventures brings over 20 yrs of experience to the landscape industry and is a second generation landscape builder. In addition to being a contractor, Ed Brown is an experienced wildlife biologist having worked for the US Fish and Wildlife Service prior to his landscape career. He also brings experience from the field of agriculture as a Certified Crop Advisor and possesses a Masters degree in Plant Science. As president of Ponderiffic Adventures, he has assembled a crew of determined landscapers to assist him in the design and construction of Koi Ponds, lakes, wetlands, streams, fountains, waterfalls, pondless waterfalls and water features of all sizes. Ponderiffic Adventures has been involved in the design and creation of projects ranging in size from small backyard ponds to 5 acre ponds.
Prior to any construction project, Ponderiffic Adventures begins each project with a site consultation with a thorough analysis of the site conditions with which to work from. A standard site analysis will examine the following:
Soil type

Drainage patterns

Existing vegetation

Intended use and purpose of space

Water availability and quality of incoming source

Landscape lighting

Location of various utilities

Long term plans for entire lot
Ponderiffic Adventures is a full service company and can help you with any of your pond needs. When you're ready to change your yard from the "average" into the "backyard paradise' gives us a call.
Water Quality
Ponderiffic Adventures builds every project with water quality in mind. There is nothing worse than a pond, fountain, lake or stream that is overgrown with algae. Past experience has shown that the key to great water quality lays in pond circulation, oxygenation of the water and good construction and design. Very early in the design and consultation stages our sales consultants ask the customer the single most important question in the entire interview, "What level of involvement do you intend to have with your water feature?" Our sales staff has been trained to ask this special question because we know that water gardening invokes user involvement and hence the word Gardening in water gardening. It is our goal to design a system that meets the customers expectations for maintenance. Because all gardening requires some level of participation by the owner, when we know the willingness to participate in this process then we can design a system that best fits the customers needs and abilities.