Waterfall Construction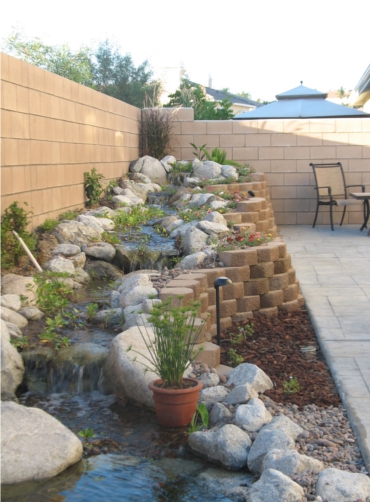 Ponderiffic Adventures Inc. is a second generation landscape and contractor located primarily, in the Inland Empire. We specialize in the installation of Custom waterfalls that blend into the natural landscape. The sound of rushing water adds tranquillity, while its appearance provides the most beautiful feature in a water garden. Not only are they beautiful, but they also serve a valuable purpose in your ecosystem by aerating the water for your fish and holding the beneficial bacteria that keeps your pond algae free.
The Pondless Waterfall
At Ponderiffic, each new water waterfall, pondless waterfall or fountain construction project begins with a design of the project. A well designed project guarantees value and ensures that the project will be sustainable. Project design plans come from landscape architects, customer drawings, or are produced by our own design dept. When considering the design of a waterfall, careful evaluation of the site is necessary. The surrounding area must relate to the water feature. How would water flow through the property naturally? Or, what do we need to change to make a waterfall look as though it flows through the property naturally?
Elevations and drainage
Vegetation
Hardscape materials, rock type etc.
Lighting
Utilities required for installation-water and electric
Intended purposes for project
Wildlife habitat suitability
Filtration and Circulation Design
Required materials and details of excavations
Code and CA landscape Contractors guideline requirements
Ponderiffic Adventures is happy to evaluate your property and give you a free estimate on you backyard waterfall, or pondless waterfall. Contact Us today for your free backyard waterfall consultation!